Discover more from 3 Minute Tech Bytes
A quick 3-minute-read newsletter on the important Technology News
3MTB Newsletter - 2020 Budget vs Science & Tech, Pakistan's locust problem, Stunning images from Cartosat-3, and more

"I'm quitting Facebook. Not comfortable with the flood of false information that's allowed in its political advertising, nor am I confident in its ability to protect its users' privacy…"

— Stephen King, well known author, after quitting Facebook
---
Did the 2020 Union Budget confuse you? Well, you are not alone. In this edition, I will share some snippets on what the budget has in store for Science & Technology in India.
First some bits,
Analysts say iPhone's Q1 supply may fall by 10% due to Wuhan Coronavirus outbreak

The UK government has allowed Huawei's technology to be used in non-core areas like base station, antenna and radio access equipment, but prohibited the company's technology to be used in core wireless networks

It is not the most coveted job. Troubled 'startup' WeWork names real estate veteran Sandeep Mathrani as CEO.
---
1. 2020 Budget and Science & Technology
The 2020 Union budget has surprisingly some good news for various Science and Technology areas.
Rs 8000 crore will be budgeted for the development of Quantum technologies

The budget proposed 2 national level schemes to comprehensively map and create a database of Indian genomes. This is critical for next-gen medicine and Agriculture

All science ministries got a combined 13% hike at Rs. 16,542 crores

BhartNet, the affordable broadband program, gets a Rs. 6000 cr boost

ISRO gets 3% more budget at Rs 13,479 crore, which seems very modest given the number of important missions lined up next year
2. ISRO's Cartosat-3 images are just stunning
ISRO recently released images taken by Cartosat-3 satellite taken over Doha, Qatar. This satellite is India's most sophisticated one and was launched in Nov 2019 to boost the country's remote sensing capabilities
The satellite can identify a 25 cm object within 16 km in panchromatic mode and is the best in its class, worldwide. Imagine the boost to the country during times of disaster management, war and peacetime efforts.
Pakistan's Locust Emergency
While the world is battling Coronavirus, Pakistan is facing an emergency of a different kind. The country is facing its worst locust attack since 1993, and these have caused havoc in the region of Punjab, the country's largest agricultural region.
Some type of locusts eat food equivalent to their body weights. The locusts usually move westwards to Iran, but hasn't this time due to lower temperatures. The Pakistani government has earmarked Rs 7 billion plus to take this emergency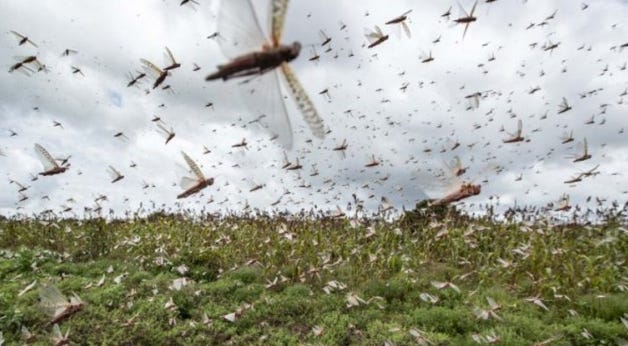 Do let me know what you think of this edition.
Till next time, Best regards
-SK