Discover more from 3 Minute Tech Bytes
A quick 3-minute-read newsletter on the important Technology News
3MTB Newsletter - Indian city with the most CCTV cameras; The TikTok gold mine; QAnon simplified;
This is one small step for a man, one giant leap for mankind

— Do I need to say who said this :)
Well, certain group of people still don't believe that Neil Armstrong walked on the moon, but on some remote desert. Scour the internet, and you will tons and tons of conspiracy theories. The most common ones would be about how NASA faked the 1969 moon landings, assassination of John F. Kennedy and Illuminati controlling the world economy.
Recently Facebook, Twitter and other social media platforms are bombarded with QAnon conspiracy theory, which appear to be pro-Trump. We will look at more details in this newsletter.
Quiz time:
Identify the device in the picture in its earliest form compared to what you know it today. Post your answer in comments.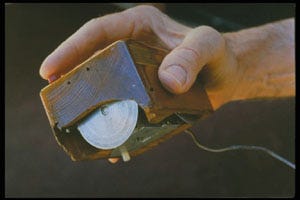 Some bits,
Hyderabad is the most surveilled city in India with nearly, hold your breath, 500,000 CCTV cameras. Somewhere around 15000 mask violators were fined. But this data will also provide a good real time sandbox for various AI & Big Data technologies. Here is an interesting article.
Have you ever bought medicines online? Not much. But Amazon and Reliance think you will do so in the future and the battle is heating up? Reliance has acquired a 60% stake in Netmeds.com for Rs. 620 crore.

Data about millenials and younger adults is a gold mine, and TikTok sits right on top of it. That may be the reason why Oracle is also touting to be among the suitors in the great American sale of TikTok. Or may be, the suitors want to gobble TikTok America to display it as a 'anchor client' of their cloud infrastructure?
---
Bytes
What is QAnon?
It is a far-right consipracy theory that a 'deep state' is plotting secretly against US President Trump and his promoters
What does Q stand for?
Q is a level of clearance in the US Department of Energy to get access to top secret or restricted data, mostly related to nuclear weapons and other related data
When did QAnon start?
It roughly began in Oct30, 2016, with a tweet that falsely claimed that NY Police Dept (NYPD) discovered a pedophilia ring that included Democratic party members. This theory was picked up in other message boards and started gaining traction
How big of a problem is it now?
Almost all of the theories are false and some have harmful content and are spread through Facebook and Twitter. Some of the QAnon theories are picked by aspiring politicians who associate these false claims to other politicians or who ever they don't like.
Facebook and Twitter have deleted thousands of such accounts and group. But people behind these posts simply create new accounts to spread such conspiracy theories.
What is President Trump's stand on QAnon?
Once interviewed about QAnon, "Well I don't know much about the movement, other than I understand they like me very much -- which I appreciate," he said. He also said "I've heard these are people that love our country."
Well, enough said.
---
There is an interesting conspiracy theory behind 5G & Coronavirus. Let us save it for another newsletter. Till the next edition, Stay Home, Stay Healthy and Stay Safe.
Best
-Senthil